Our roof renovation service at RH Renovation NYC is not only fast but also very reliable. We guarantee customer satisfaction as we have been dealing with gutter installations, installing new synthetic roof barriers, installing a new step flashing around the skylight, and other services like installing a new drip edge, for years now. This vast experience has helped us become undeniably successful in completing all roof related projects, from big to small.
Our team is composed of several experienced technicians that use cutting-edge technology to complete their work. In addition, we have invested a considerable sum to buy the latest equipment so that we can renovate a roof in no time. This gives you very little hustle and allows you and your family to enjoy the house within a few weeks after the renovation project has started.
At RH Renovation, we provide a cost estimate for free before the beginning of a full roof renovation project so that you can be prepared and allocate your budget accordingly. In addition, our talented designers and technicians will walk you through the process and the steps, whether it is a simple gutter installation or a more complex job like replacing an existing shingle roof.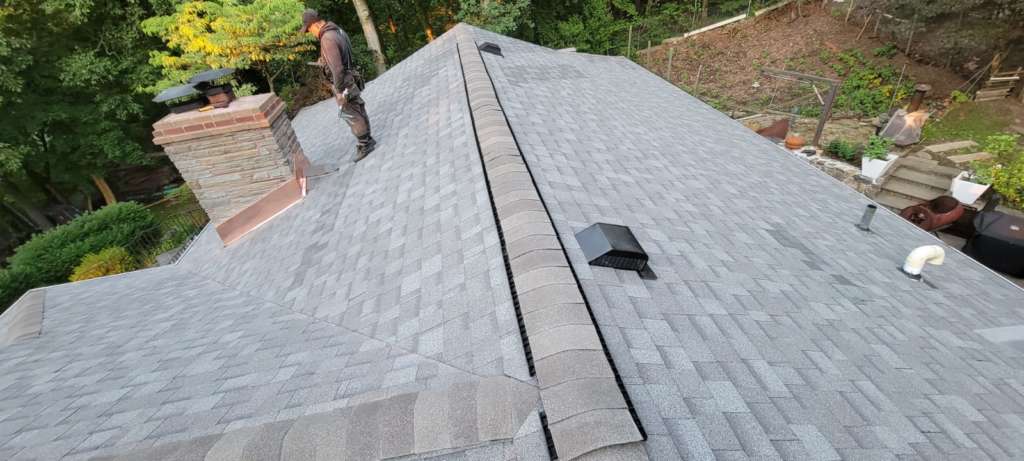 Call us for a free cost estimate on your roof renovation project today and let's get started!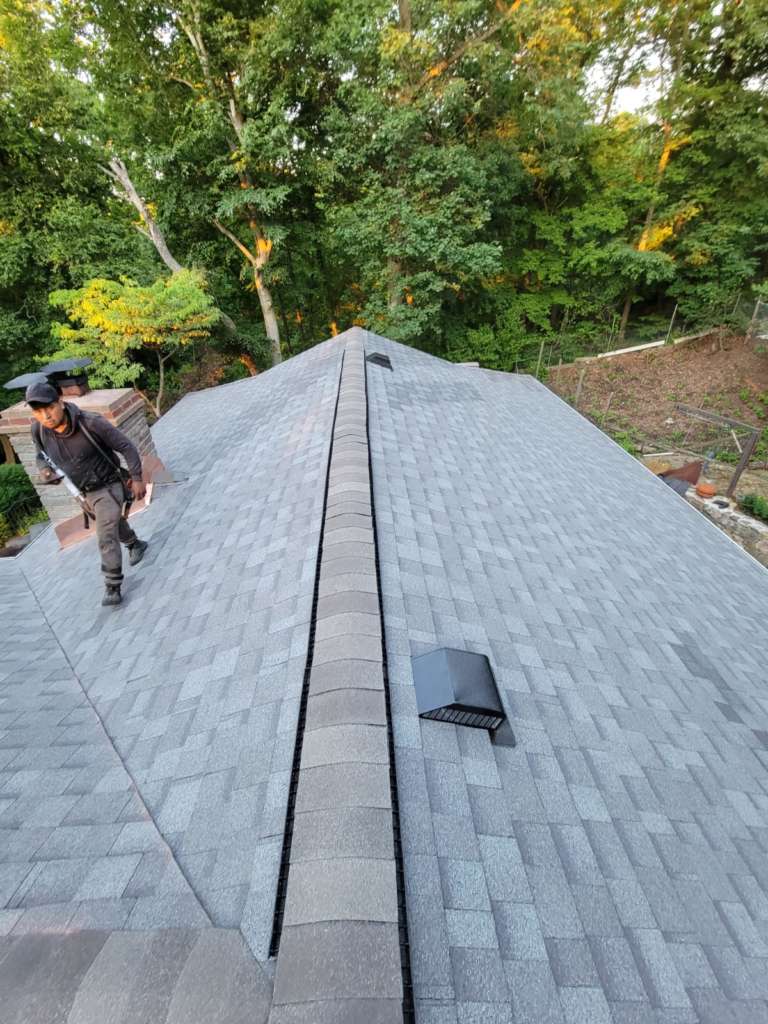 We believe in keeping up with the latest technologies to complete a full roof renovation project. While buying cutting-edge equipment and investing in training sessions for our staff can be costly to us, it does provide a better experience for our clients, and that is what ultimately matters to our company.
Our modern methods ensure lower full roof renovation costs and not only. Using trending methods also guarantees a shorter completion time, allowing you, the client, to enjoy your house sooner rather than later.
In addition, we collaborate with the most reliable roofing companies so that we can use the best materials, from modern shingles to aluminum gutters on your roof. If you need to install a new Cambridge-Xpress Harvard slate shingle roof, we got you covered.
Last but not least, we have a supporting team of different specialists that work together to ensure the success of all our roof renovation projects. Our designers are always available to give their valuable input in choosing the most modern looks for your home so that your new roof can look appealing, contemporary, and new. Our technicians on the other hand can come on-site in no time to evaluate the property and walk you through every step of the project before construction starts.
Get your roof renovated with RH Renovation NYC and enjoy the most modern methods of the moment!
Our full roof service included
At RH Renovation NYC we deal with a variety of issues regarding your roof, from small problems such as broken shingles to an entire roof replacement and installation. Our team has the necessary experience to complete a full roof renovation project successfully and in the shortest time possible without compromising the quality of the construction.
Our full roof renovation services include the following:
Replacing the existing shingle roof with a new, more durable type of shingle.
Replace other rotten plywood with a more reliable wood option.
Installing a new drip edge.
Installing a new ice-water shield.
Installing a new step flashing around the skylight to prevent leaks and deterioration.
Installing a new synthetic roofing barrier.
Installing a new attic fan on 3 sides of the house.
Installing a new cap for a bathroom pipe.
Sealing chimneys with an ice-water shield.
Installing a new step flashing grander in the chimney.
Installing a new copper around the chimney.
Installing new Cambridge-Xpress Harvard slate shingles.
Installing a new ridge cap.
Gutter installation and gutter guards to protect your facade from unwanted water.
We also provide design support by our talented members of staff that can help you choose the best look for your new roof. From picking the right color to choosing the correct material that looks better with the rest of the facade, we got you covered.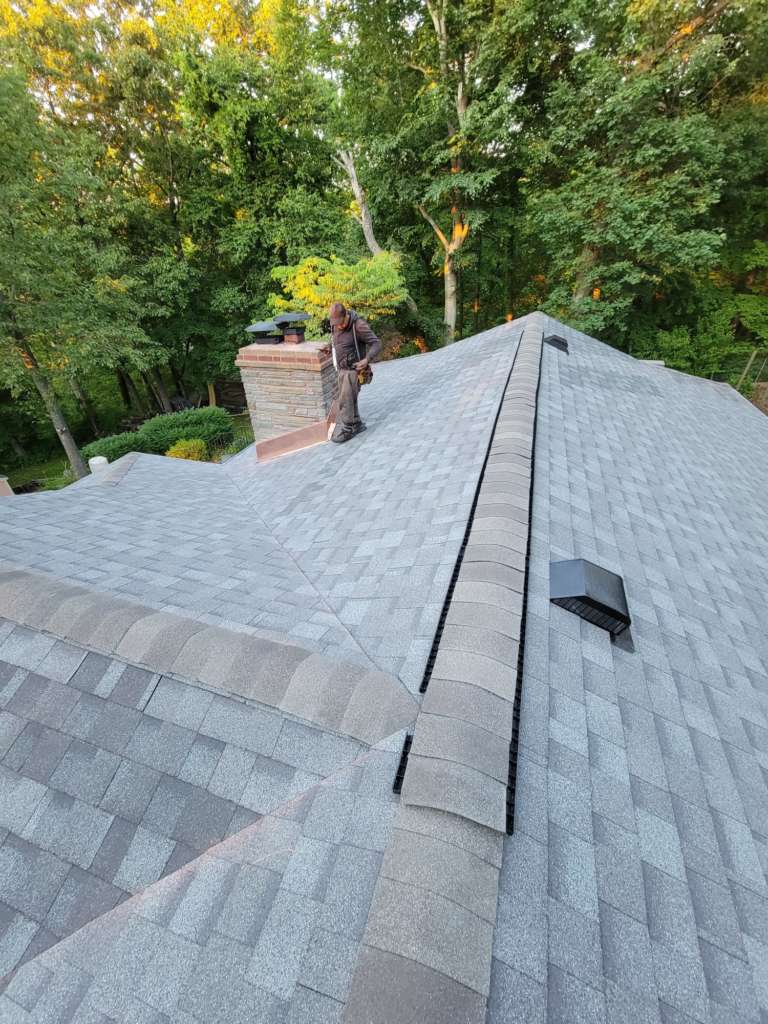 Talk to us today about which service you need for your roof and our team will get to your home in no time for a consult!
Have a look at all our successful roof reconstruction projects in New York, the Bronx, Westchester, and more. From gutter installations to sealing the chimney with an ice-water shield, we got you covered.
Our team has done some amazing work to make many homes look more appealing, by boosting their facade and external look. In addition, they have become more durable and reliable thanks to the high-quality materials we use. We dedicate our life's work to providing security for families all over New York.
In addition, our roof reconstruction projects have increased the values of homes hitting the market. Check out our work gallery now and get inspired!
RH Renovation experts in action