Roof Renovation by RH Renovation Experts
At RH Renovation NYC we provide a variety of home improvement services that help our clients have a better home that is safer and more durable. Our roof renovation services are fast, on point and extremely accurate. Our team is specialised in gutter installation, replacing existing shingle roofs, installing new Cambridge-Xpress Harvard slate shingles, installing new attic fans on 3 sides of the wall and more.
Our years of experience give us the confidence to guarantee client satisfaction in every detail of the job. Whether we are working on skylights, pitched roofs, flat roofs, drip edges or more, you can rest assured that our work will speak for itself and get your neighbours to speak about it too.
Call us today to get a free cost estimate and start renovating your roof in no time. Our team will come on site and inspect the quality of your existing roof and walk you through every step of the project.
Enjoy a new look for your home through our quick and experienced team as well as our cutting edge technology that leaves no room for mistakes. So whether you have a big or small project, we got you covered all the way.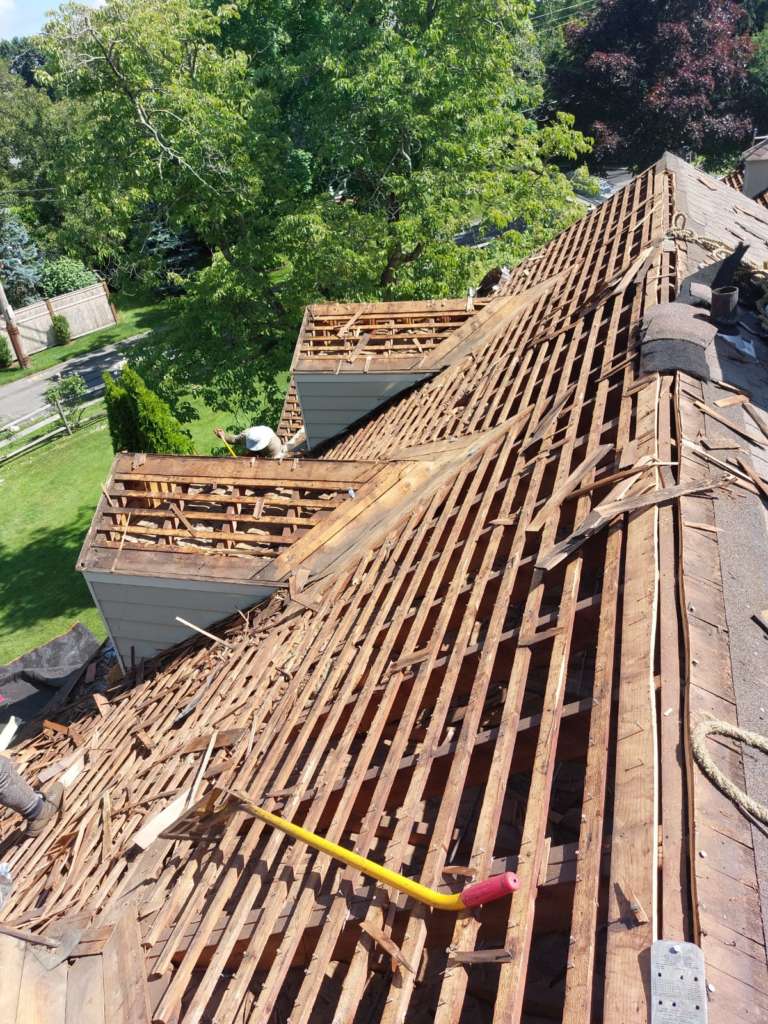 Install a new drip edge on your roof today with the best technicians at RH Renovation NYC!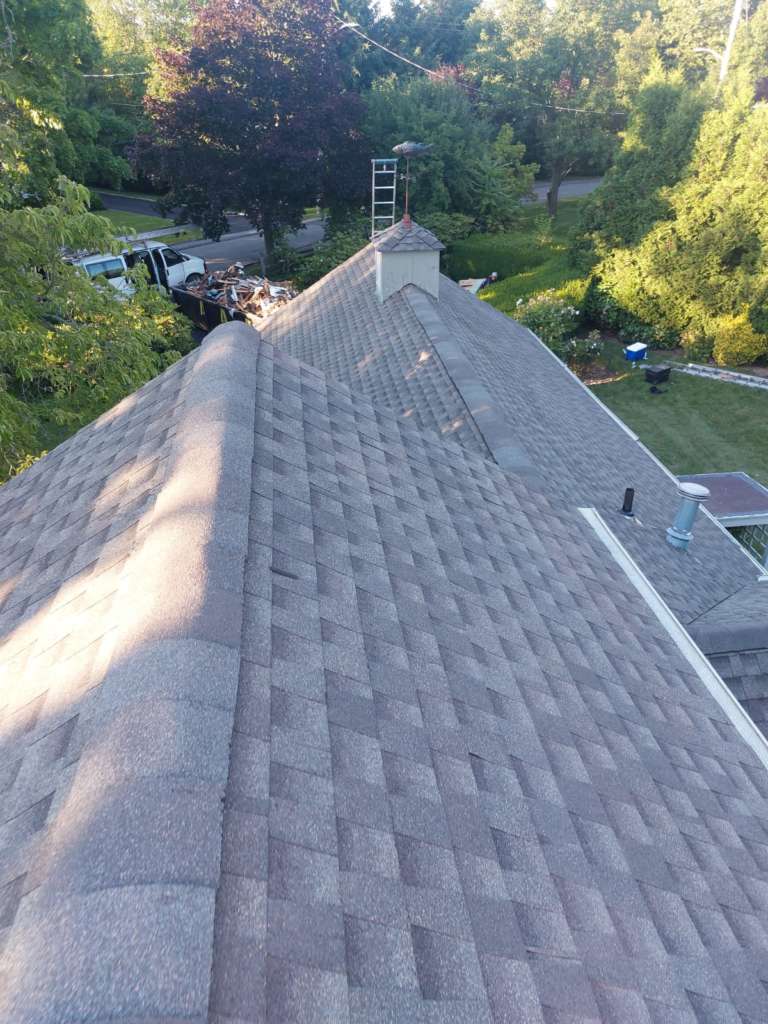 Our company is built upon years of experience that improve our services. Another crucial element that makes us the best roof renovator contractors is our modern technology. We have invested not only in the latest equipment but also in training sessions for us stuff so that we can provide the best experience possible for our clients.
Our modern methods are used to lower renovations costs and ensure a shorter completion time. Our aim is to allow you, the client, to feel safer and more comfortable in your home, without having to spend too much time dealing with construction work.
When it comes to materials, we have a strong collaboration with some of the most prestigious roofing companies that have operated in the US market for years, offering modern shingles, aluminium gutters and more. So if you need to install a new Cambridge-Xpress Harvard slate shingle roof, we are definitely the right company to seek out.
Most importantly however, we have a rich team of specialists, from technicians to designers and engineers that collaborate together to bring to you a successful project that will satisfy all your roofing needs. Our technicians are there every step of the way to provide insight on the construction work that has been done, and what the next step is. In addition, our designers are always ready to improve the look of your home with a new and contemporary roof that will last for years.
Install a new ice water shield with RH Renovation NYC and enjoy the most modern methods of the moment!
Our full roof service included
Is your roof having problems? Do you need a roof renovation service that is reliable and all inclusive? Contact us at Rh Renovation NYC. Our team deals with every issue regarding your roof. We can fix missing or broken shingles as well as conduct bigger work such as a full roof replacement and installation.
Thanks to our experience, expertise, modern equipment and excellent work ethic, we can complete a full roof renovation project successfully and guarantee you short work time as well as high construction quality.
Browse through the full roof renovation services that we offer:
Replacing the existing shingle roof with a more durable and attractive version.
Replace other rotten plywood with a stable wood plank that will increase the durability of your roof.
Installing a new drip edge.
Installing a new ice-water shield.
Installing a new step flashing around the skylight to prevent leaks and deterioration.
Installing a new synthetic roofing barrier.
Installing a new attic fan on 3 sides of the house.
Installing a new cap for a bathroom pipe.
Sealing chimneys with an ice-water shield.
Installing a new step flashing grander in the chimney.
Installing a new copper around the chimney.
Installing new Cambridge-Xpress Harvard slate shingles.
Installing a new ridge cap.
Gutter installation and gutter guards to protect your facade from leaks and stains.
In addition to technical support, we also offer design guidelines. Our talented staff members will help you choose the right material, color, depth and look for your new roof so that your home's exterior can really make an impact.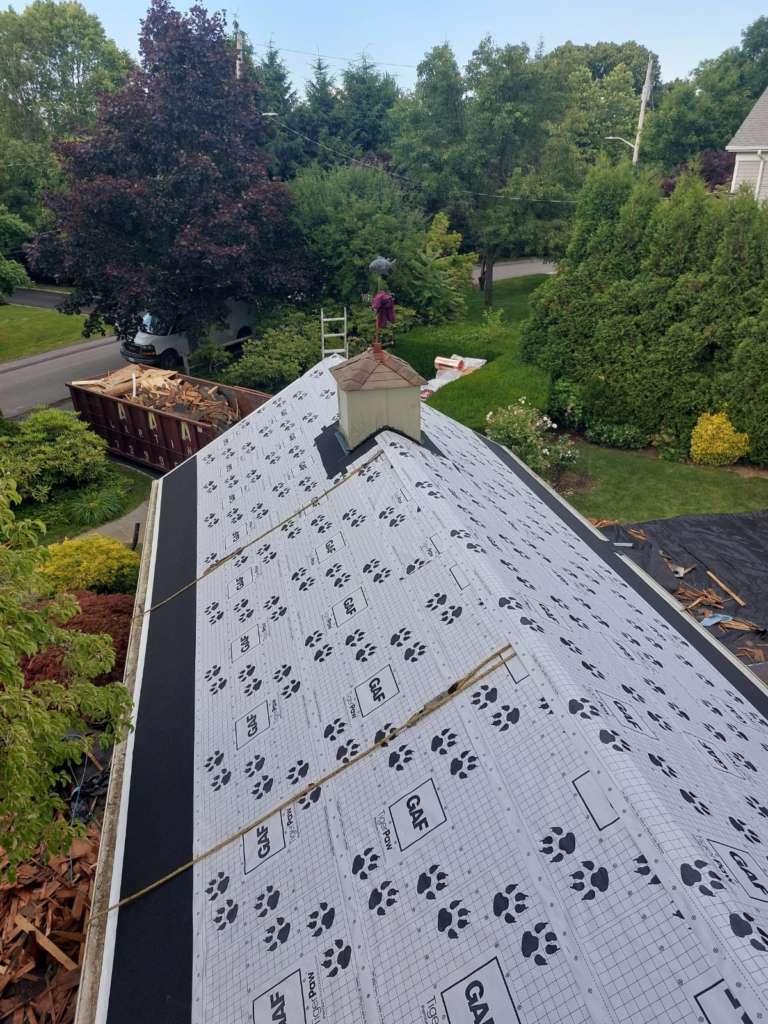 Get a free cost estimate and a very thorough consultation on your roof renovation project at RH Renovation NYC!
Get a sneak peak of our project on our gallery and check out our successful designs at RH Renovation NYC. Our work includes home renovation projects in the Bronx, Westchester and more areas around New York.
Call us for more information on gutter installation, sealing chimneys with ice water shields, installing new drip edges, changing rotten plywood, installing new caps for bathroom pipes and more.
We provide high quality service using high quality materials. In addition, we offer continuous support for all our clients during the entire process. Get inspired by our previous projects and start your home renovation adventure today.
RH Renovation experts in action